Shank
134 Beef Bones – Foreshank Bone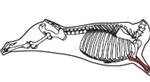 This is the front quarter leg bone. The purchaser may specify how much meat needs to be trimmed from the bone.
117a Beef Foreshank Armbone Attached Bone-In
This cut is arm bone and bone-in foreshank without being separated. The foreshank and arm bone are attached; meat remains on foreshank but removed from the arm bone.
117 Beef Foreshank Boneless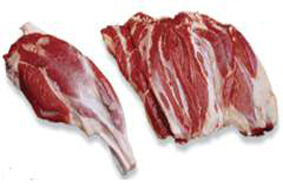 This boneless cut foreshank is a group of muscles that surround the shank bone after removal. The meat is removed through the natural seam around the foreshank bone.
117 Beef Foreshank Bone-In

This is the portion of the front quarter which is separated from the chuck by a cut passing at a point slightly above (dorsal to) the elbow joint (distal extremity of the humerus); and from the brisket by a cut which follows the natural seams of the elbow bone.